¡ïFlap Rollers( Brushes, interleaved flap wheels, felt and leather polishing brushes):
¡¡¡¡Flap rolls have big width(length), suit for big surface area treatment, for burl removing, and for special patterns on stainless surface. Powerful grinding ability, durable for use, no blockage, and the workpiece¡¯s surface can keep for a standard.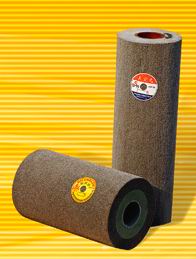 Specification Diameter from 10cm to 35cm (4" to 14"), length (width) from 1cm to 160cm (0.4" to 64"), the core shape can be cycle, hexagon, square, etc. the core can be plastic tube, aluminium tube and phenolphthalein tube etc.. We can produce every kinds of products, like different grid size, color, density(by changing the kind of hand pads or the number of pieces of hand pads in each wheel).

Use Elevator, lifter, stainless plate, stainless kitchen utensils and appliances, stainless parts of electric appliance, stainless door, copper and aluminium wares etc. integrate circuit. Decorative grinding pattern treatment.

Feature special design for big (uneven) surface area of workpiece, no blockage, good brightness, excellent grinding effect, durable for use, workpiece's surface can keep for a standard.
We can produce different size(diameter, width, hole), grit, color, density flap rollers according our clients' requirements.